HUMANURE HANDBOOK, 3RD EDITION
Go to the Humanure Headquarters
OUR BEST-SELLING BOOK - OVER 60,000 SOLD
A Guide To Composting Human Manure, 3RD EDITION
September, 2005, 255 pages, 19 photos, 55 drawings, 42 tables and charts, indexed, $25.00 US

Buy Now or read the book free on the web.
Take a Look at the Loveable Loo Ecopotty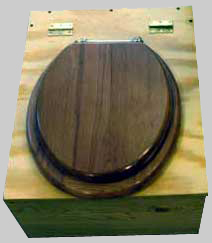 Go to the Humanure Headquarters
Photo Gallery of Humanure Toilets
Photo Gallery of Humanure Compost Bins
Go to the International Humanure Message Board!
International English Language Sources
---

"Outstanding Book of the Year"
"Book Most Likely to Save the Planet"
2000 Benjamin Franklin Award Finalist
2000 Foreword Magazine Book of the Year Award Finalist
Three Rivers Environmental Award Finalist!
Amazon.com category #1 bestseller, two years in a row
Reader's Choice Environmental Book
---
Written by a humanure composting practitioner and organic gardener with over 30 years experience, this third edition provides detailed scientific information on how humanure can be hygienically recycled, without fancy technological do-dads, a large bank account, toxic chemicals, or environmental pollution.

This unique handbook provides information on composting, soil fertility and microorganisms, alternative graywater systems and much more. It also gives detailed instructions on how you can build or buy your own humanure toilet and compost bins for only a few dollars.

Defecating in our drinking water is perhaps one of our culture's most curious, but least talked about, habits. This book gives compelling and detailed testimony as to why humanure should be constructively recycled:
to prevent water pollution: (almost 4 trillion gallons of sewage effluent are dumped into our coastal waterways each year);
to fertilize the soil: (rich in soil nutrients, humanure can be safely recycled by thermophilic composting);
to protect our dwindling drinking water supplies: (nearly 1/3 of all household drinking water is used to flush toilets); and
to enhance our health: Fertile soil not only grows great veggies, but nourishes our health and community's well-being.
As one of our favorite reviewers said, " Should be required reading for everyone on the planet. " But you can make up your own mind!